High Powered 18 LED Camping Lantern with Ceiling Fan
Product Code: SKUEJY25391
Availability: In Stock
$26.39
Ex Tax: $26.39

Grab your Discounted High Powered 18 LED Camping Lantern with Ceiling Fan while its price is still low. 
FEATURES:
LED Camping Fan Light Combo- Portable LED camping lantern with ceiling fan will keep you cool and comfortable inside or outside of your tent and its 18 powerful LED bulbs will illuminate the night.
Make Camping Relaxing- Fan/light is 20 1/2" around, fan blades 4" across, constructed of military grade; promising long-time durability, no matter where you go. Enjoy some of the comforts of home while you experience the great outdoors.
Multi-Position (Hang or Stand)- Simply hang the camping combo LED Lantern & fan from your tent or shelter, or stand it on its base and take pleasure in hours of light and fan. Ideal for outdoor trips or emergency events.
Long Battery Life- UP to 37 hours of light from a set of batteries; Up to 50 hours (low speed) or up to 30 hours (high speed) of fan from a set of batteries; Up to 16 hours of light and fan (low speed) from a set of batteries.
Compact & Easy to Use- Weather resistant, lightweight and portable. The extremely lightweight build allows you to take your lantern on the go with ease. When not in use collapse the lantern to a smaller size; store it effortlessly, taking little space.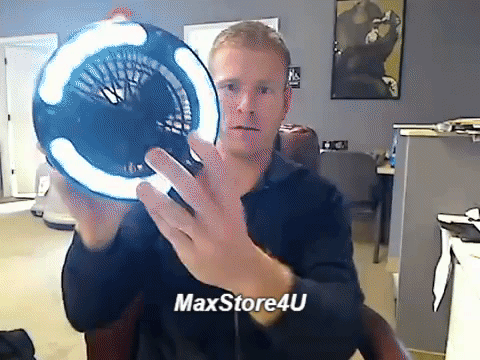 SPECIFICATIONS:
Height: 18.4cm / 7.2inch
Width: 16.7cm / 6.6inch
Fan Diameter: 14.5cm / 5.7inch 
Power Source: 2 D cell batteries (Batteries are not included) 
Body Material: ABS
Light Source: LED Bulbs
✈ WORLDWIDE SHIPPING:
Economic Shipping (Order more pay less for your shipment – Max payment 5.99$)
Fast shipping to USA (Usually 7 to 28 working days)
International shipping: (Up to 60 working days) depends on the country.